Written by Casey
Friday, 26 June 2009 07:43
Advertising Placements in AskCaptainLim.com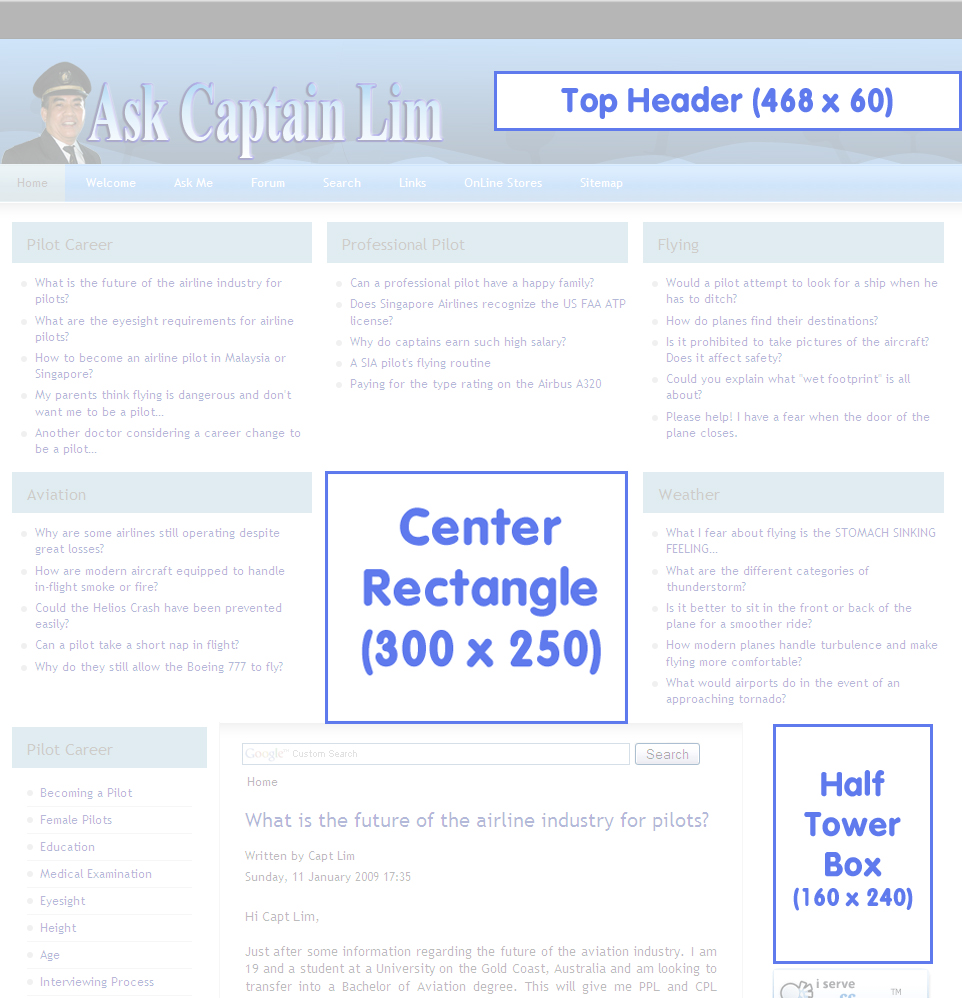 Front Page Ads Placement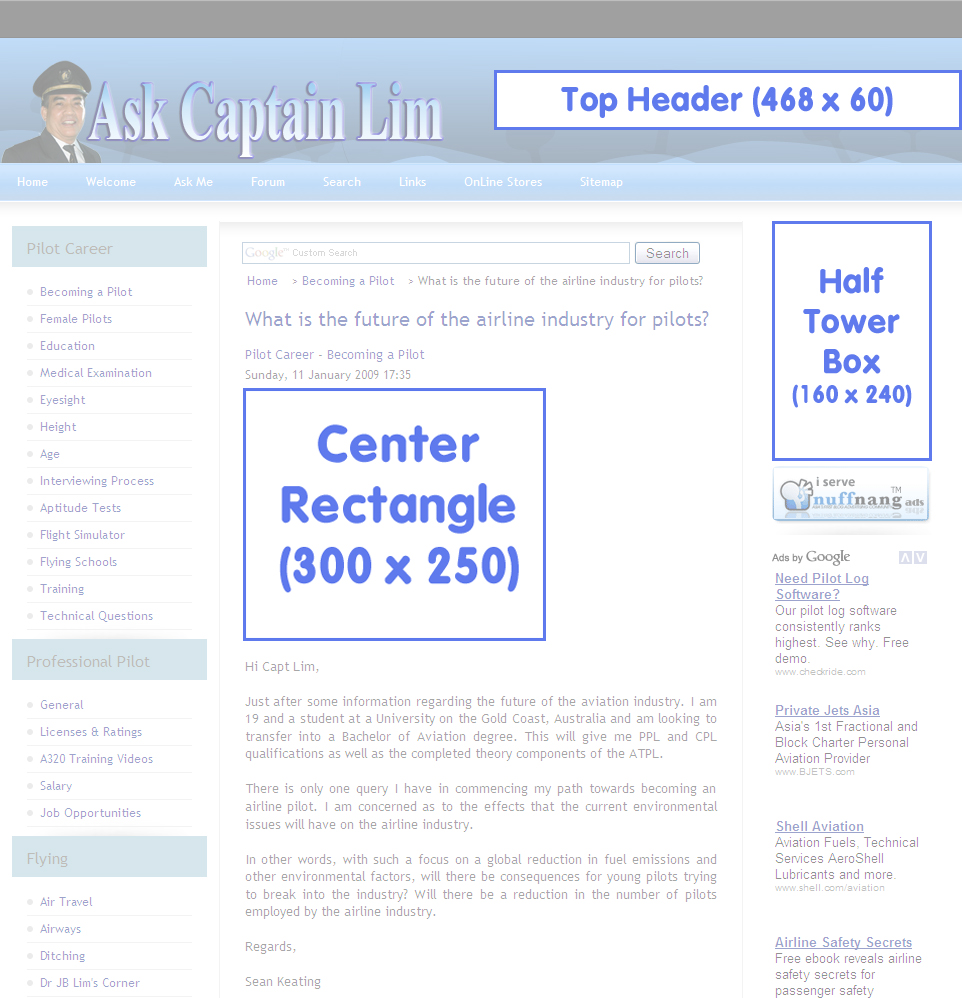 Content Ads Placement
RATES and Specifications
| | | |
| --- | --- | --- |
|  Area |  Size |  Rate |
|  Top Banner |  468 x 60 |  $60.00 |
|  Center Rectangle |  300 x 250 |  $100.00 |
|  Tower Box |  160 x 240 |  $80.00 |
•  All advertising positions are on rotating basis with a maximum of 3 ads.
•  Rates quoted above are on a per banner/month basis, minimum of 30 days.
•  Further discounts will be given for campaign period of 3 months or longer. 
•  For banner designs, you might be able to find or hire affordable banner design at
   Bannersworld.com.
•  All advertisement will appear in the all page.
Terms & Conditions
•  Sizes stipulated above using horizontal x vertical length in pixels.
•  All files should be less than 50kb.
•  Please allow 5 working days from time of ad delivery to campaign launch.
•  Advertisements will run upon completion of Insertion Order Form and payment.
•  Upon invoicing, any cancellation of the Insertion Order will incur a cancellation fee of at
   least 10% of invoice.
•  All payments are via Paypal. For any other mode of payment please contact us as below.
•  Upon commencement (ad is running), there will be no refund of cancellation of the Insertion Order.
•  All stated rates are quoted in USD and are subject to change.
•  eQuilec.com and AskCaptainLim.com reserve the right to deny request for advertisement insertion
   should the advertisement not meet our list of approved themes. Advertisements from the below
   categories will not be accepted:
    * Adult
    * Dating and Relationships
    * Firearms and Weapons
    * Gambling
    * Government and Politics
    * Tobacco and Smoking
•  eQuilec.com and AskCaptainLim.com will not be responsible for the loss of material in transit.
•  While all effort will be taken to keep the website running 24/7, AskCaptainLim.com will not
   compensate advertisers for server or website downtime for a period less than 8 hours.
•  Should a shutdown of the site occur for a period longer than 8 hours, advertisers will be
   compensated by an additional week (7 days) of advertising.
 
For further enquiries, please contact us at - This e-mail address is being protected from spambots. You need JavaScript enabled to view it

We apologies as the only means of payment at the moment available to us is only via Paypal.
Last Updated on Monday, 29 June 2009 04:33